Each serving at this restaurant is only at VND2,000 ($0.1). Customers are not distinguished as rich or poor, young or old … because there is the "spice" that everyone can feel there: affection.
Nu Cuoi 3 (Smile 3) is a rice restaurant in a chain of charitable restaurants of the Tinh Thuong (Compassion) Charity Foundation in HCM City. The restaurant opens at 11.15am but customers were present and lined up neatly before the opening hour. Obviously, they were poor workers. Some people still held stacks of lottery ticket in their hands; others came with the bike full of scraps. Everyone had tanned skin, austere face and old clothes. Coordinator Tang Thi My Lien and volunteers were always busy. Lien said more than 20 volunteers at the restaurant are students and some workers from the Tan Thuan Export Processing Zone.
Busy in peace
One by one, each group of 10-15 people entered the restaurants, took their tickets and began their meal. From the first customer to the 350th, anyone was graciously served. Most of them are lottery ticket sellers, waste collectors, poor students, masons, motorbike taxi drivers… Nguyen Thi Hong Hoa, a vendor, took her five-year-old son to this restaurant twice. Hoa said this rice restaurant is of great significance for low-income people like her because her income was only enough for accommodations, electricity and water charges and to send her child to a private preschool. Mrs. Minh, a waste collector, said at first she did not dare to enter the restaurant because it looked "luxurious." It was also her second time here, she was more timid and grateful because with this diet she could save VND12,000 to send home for her children. The meal today also appeared disabled and visually impaired people and they were helped by volunteers to enter the restaurant.
The kids of 5-7 years old followed their mothers or grandmothers to receive their servings. After the meal, they took the trays to the washing area themselves, like adults. So, in addition to providing a meal, the rice restaurant also helps build a healthy lifestyle for kids. We could not turn the camera lens close-up on the faces of those who were busy with meals. Lien said she cried hearing the story of a woman who came to "Nu Cuoi 3" restaurant. "I entered a rice restaurant to buy a meal at VND 15,000. After receiving the money, the cashier called: A serving for a waste collector, please. I felt exorable!" Those who come to this restaurant are always timid and the task of the volunteers is to remove the feeling of inferiority in them.
Volunteer working at this restaurant share to the common reason: To help the poor. We asked Dinh Thanh Danh, a pretty young volunteer who passed a long way to work in this charity restaurant, said: "The image of a poor who timidly pays VND2,000 for a serving makes me sad. Look at them I know that how luckier I'm and I promise myself to live more positively. Spending several hours at this rice shop as volunteers are also drivers, newspaper delivery personnel, office workers, cooks and also businessmen. Mr. Cao Van Quy is the director of a furniture manufacturing company in Binh Tan District also took his daughter to this restaurant to work. "This is a worth-to-do job and it also helps my daughter to understand the value of money and the difference between altruism and selfishness," Quy said.
To have more smiles
Nu Cuoi restaurant, smile restaurant, charity restaurance, rice restaurant, the poor After the meal, kids took the trays to the washing area themselves, like adults. So, in addition to providing a meal, the rice restaurant also helps build a healthy lifestyle for kids.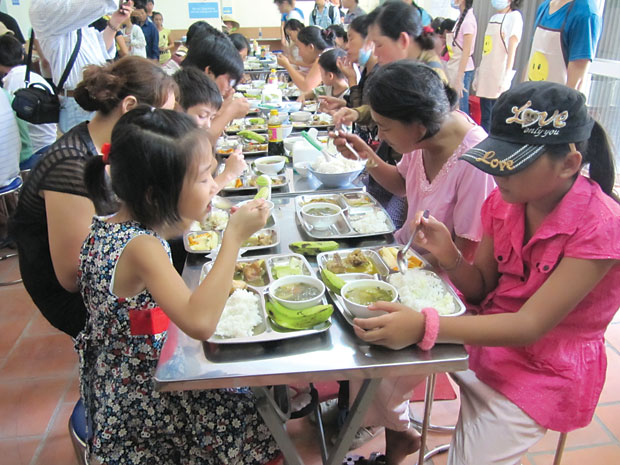 A serving includes three dishes: main course, fried vegetable, soup plus desserts and free iced tea. Each serving is priced only VND2,000, so each month the restaurant gets loss of VND50 million ($2,500). The loss is compensated from funds of donors. Ms. Nguyen Thi Huyen, the restaurant's accountant showed us the invoices noting contributions of benefactors. There are not only the names of well-known businessmen and intellectuals with million dong of donations but also students, small traders with tens of thousands dong or a dozen of bundles of vegetables. Huyen said: "There are many groups of office workers coming to the restaurant to eat and several days later they returned with books, rice, soap and furniture for the restaurant as a message of support and thanks for the meaningful meal."
The charitable activities at this restaurant are therefore considered successful when they not only raise money for helping the poor but also linking the hearts and spread compassion in the community. Professor Tran Van Khe appeared at the restaurant with a deep voice: "Hearing good things about this restaurant, I have to come here to see by my eyes. To have a good meal, it is good to ourselves but that meal is shared with the poor, it is more valuable. I see not only the smile but also the heart in the meal." Journalist Nam Dong, who manages two Nu Cuoi restaurants, No. 1 and No. 2 said each restaurant has a stable number of customers – about 450 people. He shared the three decisive factors for the success of these rice restaurants: financial transparency, food safety, considerate service.
With these factors, Nu Cuoi restaurants are always crowded and they have received the support of many donors. Nu Cuoi 3 is a restaurant in the chain of rice restaurants for the poor of the Tinh Thuong Charity Foundation in HCM City. It was created by a group of businessmen and intellectuals and managed by journalist Tran Trong Thuc. The restaurant is located at 298A Huynh Tan Phat, Tan Thuan Tay Ward, District 7. It was opened on May 7 and so far the number of customers has increased day by day, from 120 to over 300. Not just selling rice, the restaurant also has a bookstore selling all books at the price of VND2,000, with 550 titles and a newsstand for those who want to read newspapers on the spot.
It is the idea of the restaurant manager Tran Trong Thuc, because a meal is not enough and the poor also need to have access to the reading culture while they cannot afford to buy books and newspapers, especially children's books… Come to the "Smile" restaurant but the people easily shed tears before the noble gesture for those who are needy, difficult. There, the poor not only find a charity meal, but also feel the warmth of the human affection. We still need many more "Smiles" like this. Source: SGTT